Home>
Products & Business Activities (Weft-knitted Smooth Double-knit Fabric Sweaters and Other Knitwear)

We have always aimed at developing original products, and products that are the best of their kind in the world.
The scale of the market for double-knit knitwear such as sweaters is said to be from 0.5 to 0.6 million items of clothing per year.
In 1998, we began to fully engage in the development for industrial use of this production technology unique to Japan.
We produce 0.4 million knitwear products per year in categories such as men's clothing, school vests, sweaters and cardigans.
This smooth double-knit fabric cannot be produced in Southeast Asian countries. You can trust in our quality when selling our products.
[Video] Learn more about weft-knitting of smooth double-knit fabric
Product Characteristics
Double knit – Wrinkle-resistant compared to other fabrics including ribbing and flat knit
Extremely light compared to one-side knit fabrics. Our double-knit products are soft, and conform to the trends for today's textile products.
We hold the patent for microcapsule embedding treatment. Both this and nanotechnology treatments are unique in that they are carried out on finished products, and it is possible to create custom-made products.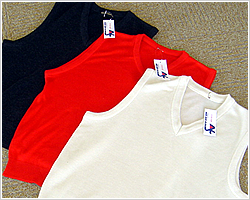 Knitting Machines
We began the development of a new model in 1998. We received a grant from Toyama Prefecture in the year 2000 and succeeded in the completion of the new model and its practical application. However, to manufacture one new model, we need to scrap three to five conventional SHIMA SEIKI knitting machines with an equal or higher performance level to that of the previous deluxe model (SHIMA SEIKI MFG., LTD.). Currently we own 73 new-model machines. In 2010 we developed a computerized double-knit machine, and we now own five of them.