Home>
Products & Business Activities (Nanotechnology Treatment)

Any fabric can be processed with nanotechnology treatment. From premium quality natural fiber to synthetic fiber, this treatment can be applied to various materials including wool, silk, cotton, nylon, polyester and rayon. In particular, we were the first in the world to successfully apply this technology to wool-blend knitwear. Furthermore, with our nano stain-resistant/water-repellent treatment technology, we are able to provide unique services that cannot be provided by any other company. These include treatment processing of finished products, and a complete and total treatment of the entire product for fully-covering effects.
[Video] See the effects of nanotechnology processing
Product Characteristics
Excellent water and oil repellency
Excellent stain resistance
Causes no change in air permeability
Causes no change to the original texture
Holds up well to repeated washings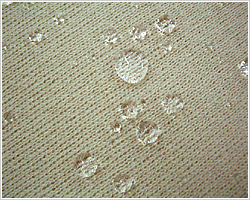 Effects
This stain-resistant processing protects the fabric from water, dirt and all types of stains. It also maintains the fabric's original color, material and texture. Once treated with this technology, the fabric exhibits powerful stain-resistance – it is rarely stained and easily cleaned on the rare occasions when cleaning is required.